About the Author on the 'Writing Journey' and a few of Craig's Books on writing (also see Craig's Books)
If you enjoyed this book (or perhaps found it helpful to you), you may then enjoy craig's other books on "the writing journey"…
CRAIG'S AMAZON BOOKS ON THE WRITING JOURNEY… THE CRAFT OF WRITING
About the Author (and Some of Craig's Books)
How to Write a Book and Get Published
http://www.amazon.com/Publishing-Dummies-Electronic–book-ebook/dp/B006KRSNM4
"Publishing for Dummies": How to Write and Publish an Electronic Book (e-book) with AMAZON by craig lock (Dec 10, 2011)
http://www.amazon.com/Publishing-Dummies-Electronic–book-ebook/dp/B006KRSNM4
http://www.amazon.com/WRITE-RITE-WRITING-Published-ebook/dp/B005HRTKGQ
'WRITE RITE': ALL THAT I KNOW ABOUT WRITING (All That I Know About Writing: How to Write a Book and Get Published) by Craig Lock (Aug 16, 2011)
http://www.amazon.com/WRITE-RITE-WRITING-Published-ebook/dp/B005HRTKGQ
"Writing In The Zone" (Writing: All that I Know About Writing) by Craig Lock (Oct 15, 2011)
Racing (and Writing) in the Zone
•
Racing (and Writing) in the Zone
The Pursuit of Excellence (Racing and Writing in the Zone) by craig lock (Dec 11, 2011)
http://www.amazon.com/Pursuit-Excellence-Racing-Writing-ebook/dp/B006KXUWAE
Publishing for Dummies
Publishing for Dummies
Writing into the Light: A True Story!
http://www.amazon.com/Writing-into-Light-Stirling-Prize-ebook/dp/B00GMO1P9S
*
BOOKS ON "THE ORIGINAL AND HUGELY POPULAR": CREATIVE WRITING COURSE(S)
Creative Writing Course [Kindle Edition]
Advanced Creative Writing Course [Kindle Edition]
Advanced Creative Writing Course
The Art (and Craft) of Self Publishing (Creative Writing Course, Advanced Creative Writing Course)
The Art and Craft of Self Publishing
and
HOW TO WRITE THAT "GREAT" AMERICAN* NOVEL [Kindle Edition]
How to Write that "Great" American (or that of any other country) Novel
How to Write a "F…lipp'n Good" Novel: How YOU can write that great novel, the one that lies deep within you (Paperback)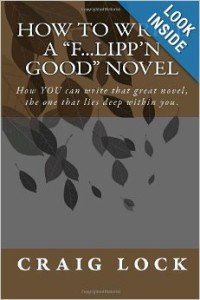 Writing into the Light (paperback): A true story!
http://www.amazon.com/Writing-into-Light-beautiful-tranquil/dp/1493735586
Enjoy and happy writing
craig
May 2013
"I want to write books that change people's lives – change the way they think and feel – fully change them for the better in some way."
– anon writer
"I really value words. I really try to illustrate and let people draw their own conclusions, which is how I feel. I never want to proscribe what people should think and feel,":
– 'another a nonymoose writer'
The various books* that Craig "felt inspired to write" (including 'Write Rite and be Published: All that I Know about Writing, How to Write Creatively, as well as all his other books on the writing journey) are available at: http://www.amazon.com/s/ref=la_B005GGMAW4_sr?rh=i%3Abooks&field-author=Craig+Lock
http://www.amazon.com/-/e/B005GGMAW4 http://www.creativekiwis.com/amazon.html and http://goo.gl/vTpjk
All proceeds go to needy and underprivileged children – MINE!
What's the difference between a writer and a family pizza?
The pizza can feed a family!
PS:
For a bit of great "wacky" humour (Monty Python's Thomas Hardy on novel writing) click on http://www.youtube.com/watch?v=ogPZ5CY9KoM